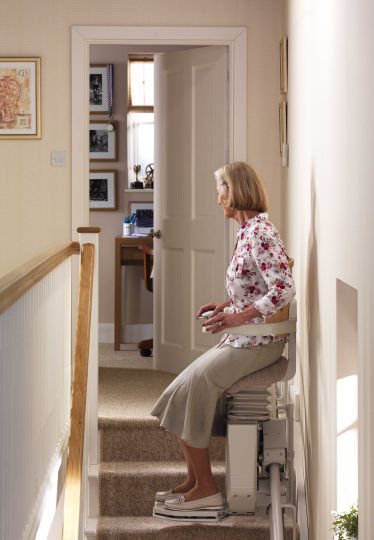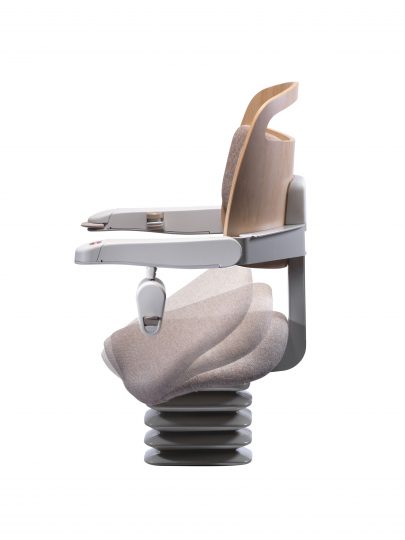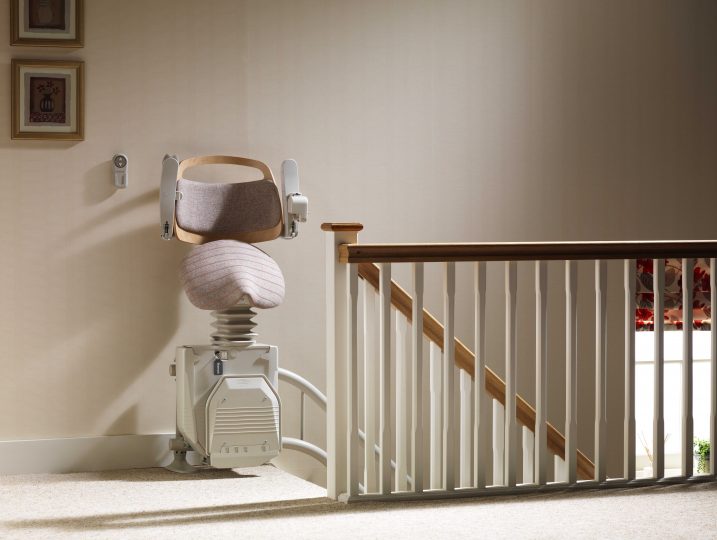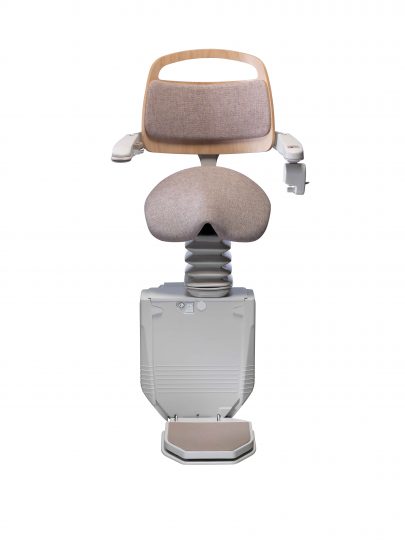 Sadler
Designed specifically for people with limited flexibility, the Sadler is a innovative stairlift designed specifically for curved staircases.
Advantages
Maintains posture
The Sadler's unique design helps users maintain a more upright posture whilst taking most of their weight through the seat. This helps to minimise the weight that the  legs need to support, making it the perfect option for people with limited flexibility in their knees and hips.
Tilted saddle style seat
The Sadler unique tilted saddle-style seat raises and lowers users, allowing them to get in and out of the chair with ease.
Slim design
With its slim design, the Sadler is great for homes that have curved staircases too narrow to accommodate a traditional stairlift.  The slimline curved rail leaves ample room for you and others to use the stairs safely and easily.
Easy folding function
You can fold away the armrest and the footrest will fold automatically when you are not using the stairlift.
Different height options
The seat height can be ordered in different heights to suit both taller and shorter people.
Easy-to-use controls
The Sadler's controls are designed with simplicity in mind, and are ideal for those with limited dexterity.
Safety
Seat safety sensor
Ensures your stairlift won't move until you are safely settled into the chair.
Safety edges
Safety sensors around the base automatically detect obstructions on your stairs and bring your sofia to a safe stop.
Immobiliser Seatbelt
Your retractable, secure seatbelt fastens with one hand, so it is easy on arthritic hands. The stairlift will not operate unless your seatbelt is fastened.
Non-slip Seat
Soft ridges on the seat provide extra 'grip' while riding.
Technical Specs
Indoor applications
Curved Stairs
Saddle-style tilted seat
Rated load: 135kg
I am very happy with the chairlift … The technician was very professional in his manner. I think my decision to go with P R King was the best one!
QLD