Adding a stairlift to your home can make a huge difference to the way you live and enjoy your life. The process of choosing one, however, can be overwhelming. We've put together a few tips to help make the buying process as easy and stress-free as possible.
Stairs should never be the reason a person is forced to move out of a home they love, nor should they be a source of dread. Unfortunately, for many, they are. Stairlifts are a safe and affordable solution for anyone in need of assistance on the stairs, and one that allows people with limited mobility and walking difficulties the freedom to safely get around their home independently.
Stairlifts – What Are They Exactly?
Quite simply, a stairlift is a powered chair mounted on a rail that transports a person up and down the stairs. Sometimes you'll hear it called a stair chair or a chair lift.
Who Can Benefit from a Stairlift?
Anyone! Stairlifts are beneficial for aging people who are finding the stairs increasingly difficult to travel up and down on. They're also useful for people with chronic pain, arthritis and those with injuries to areas affecting their mobility and stability, such as their knees or hips. Stairlifts can also provide greater convenience for other family members in the home, allowing for safe transportation of awkward loads on the stairs, such as washing or rubbish.
The Type of Stairlift You Choose Will Depend on Your Staircase
Every staircase is different, and the stairlift you choose will be based on the type of staircase you have in your home. Examples of staircase types include straight, curved, fanned, and multi-stop, which are stairs that feature several landings. P. R. King & Sons offers a range of indoor stairlifts for both straight and curved stairways, as well as an outdoor stairlift for straight staircases.
Is Much Building Work Required?
Not at all, and that's what makes the Stannah stairlifts that we provide so brilliant. Because the rail is fitted to the stairs rather than the wall no structural changes are made to your home. It also means if circumstances change and the stairlift is no longer required or you decide to sell the house, it can be easily removed without causing any permanent damage to the stairway or wall. To find out more about stairlift removal, contact our office. 
Different Stairlift Styles
Straight rail chairs are the most frequently installed stairlift types and take just a few hours to install. These can be installed on nearly all staircases that have no turns, landings or bends in them. If your staircase does have a bend in it, you'll require a stairlift on a curved rail. Curved rail stairlifts are installed on any staircase with any type of turn or landing, such as a spiral staircase, a fanned staircase, or those with half or quarter landings. Curved stairlifts can also be used to reach more than one floor. Because each curved staircase is unique, these curved rails need to be custom-made for each set of stairs.
Cost of Stairlifts
The cost of a stairlift varies depending on several factors, including the style of chair you choose, optional features, and the actual style and length of the staircase it's to be installed on. To get an accurate price it is recommended to book an appointment for an in-home assessment. P. R. King & Sons offers free no-obligation home assessments, in which a sales consultant measures your stairway and surrounds. But more importantly, they take the time to understand your needs and your budget. This helps them to determine the stairlift model best suited to you and make appropriate stairlift recommendations.
Factors that can impact the cost of a stairlift installation:
Are your stairs straight or curved?
What is the width of your staircase?
How far will the stairlift need to travel?
Does your staircase have any landings at the top or bottom?
How much headroom is there under the bulkhead?
Will any major fixings need to be moved to make way for the stairlift?
A straight stairlift is generally less expensive as it doesn't require a custom rail to be made like a stairlift for a curved staircase does. Once again it is best to have your property inspected by a company representative to ensure the most appropriate stairlift is identified. Contact us to book your free home assessment.
Things to Consider Before Buying
Once you've figured out the best style of stairlift for you, you'll need to consider a few other things. Let's be honest – no-one wants an ugly stairlift. A stairlift should complement your home and fit in with your lifestyle. When choosing your stairlift, it's important to choose one that can be customised to your home and your personality. P. R. King & Sons range of stairlifts allows you to select such things as seat covering and colour, frame finish, rail type, and more. You can find out more about our range of stairlifts here.
Features
Comfort is an important consideration. Before meeting with a stairlift provider, consider the practical features you want in your stairlift seat. Popular features include adjustable seat height, seat swivel, obstruction sensors, automatic folding seat and powered footrests. If you'd like a free brochure, get in contact with us today and we can email one your inbox or send you hard copy in the post.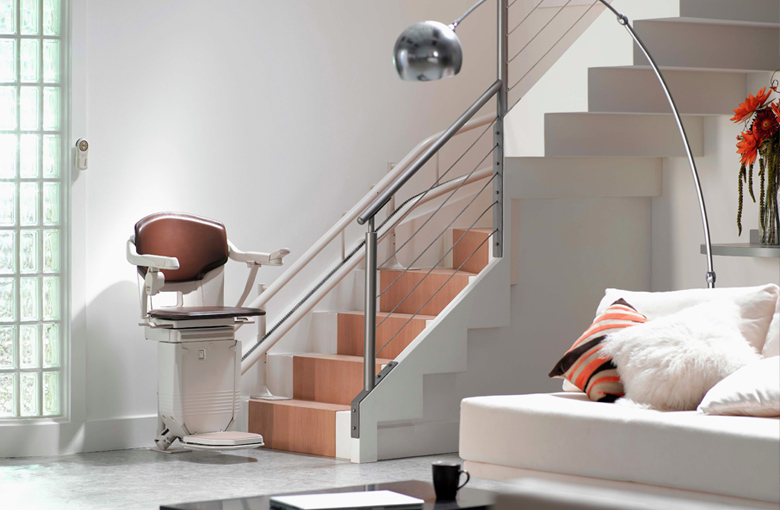 Weight Capacity
You will always want to consider who will be using the stairlift when making your purchase. The stairlift you choose will depend on who will use the stairlift. If the stairlift will be used by more than one person, it's advisable to opt for a style with the highest weight capacity. This means it will be able to cater to more people. The Stannah stairlifts offered by P. R. King & Sons can carry weights between 120kg to 160kg.
Health and Medical
Do you experience lower back or hip pain, or have you had a hip or knee replacement? Some seat types may be better suited to you. For example, our Sadler chair has a unique saddle style seat designed specifically for people with limited flexibility. Other things to consider may be seat width, retractable arms, and seatbelts. If you're not sure about your needs, it can be useful to speak with an occupational therapist, who will be able to advise the best style for your needs.
Servicing
If you do decide to purchase a stairlift, you will need to keep in mind that regular servicing will be required to ensure its safety and longevity.
Ready To Go?
As with all larger purchases, there are things to many things to consider. If you're unsure of your decision, be sure to speak with family and friends before making the purchase. Some pushy salespeople may try to rush you into making a purchase, even if you aren't ready or are still unsure if the stairlift is right for you. Your safety and satisfaction are the main priorities and it's advisable to do your research before you make a purchase.
If you'd like to set up a no-obligation home assessment or find out more about our stairlifts, call P. R. King & Sons on 1300 775 464 or request a callback and our team will contact you shortly. We have stairlift consultants located in Victoria, Western Australia, Queensland, and New South Wales, and we supply stairlifts and other access lifts across all of Australia. To view our stairlift product brochure, click here.
---